Outlook Project Tracking
Outlook project tracking simplifies the work of project managers, who can track projects, tasks and resources from their email client.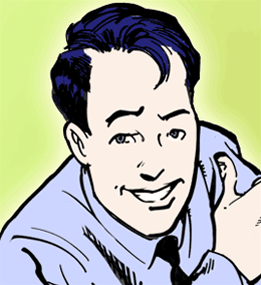 "Advances are made by those with at least a touch of irrational confidence in what they can do."

- Joan L. Curcio
As a senior PM at Bizco, I'm usually in charge of tracking multiple projects simultaneously. I juggle resources, schedules, employees and tasks across the board. I need something that streamlines all these processes and automates my daily tasks. Thanks to TrackerOffice, I can track my projects in Outlook.
Because when my boss, Victor Vice President, asks me about a project's status, I want tell him everything, down to the last detail. Fortunately, we set up TrackerOffice, a package of Microsoft Outlook tools. It simplifies and automates our project tracking process with Outlook, which makes my job a whole lot easier. Now I can track and manage all of my projects in Outlook!
Project Tracker
As a project manager, I juggle schedules, people and resources for multiple initiatives. Project Tracker is an Outlook project management software solution that allows me to easily review overall progress, with the ability to drill down to the status of each employee's individual tasks. TrackerOffice also provides Outlook document management functions, offering my teams and I a central, online location for all our documents and files.
Reporting - Having all of this data rolled up in a business intelligence solution helps me to effectively track projects in Outlook. I can quickly review their progress with Gantt charts, or check their financial status with a Budget vs. Actual report, and make sure that everything is on track.
Personnel Tracker - As a project manager, it's great to have access to an employee tracking software solution right in my Outlook email. It makes it easy for me to contact anyone I need to within my organization quickly, without having to spend time tracking them down, using an employee database.
Customer Tracker - I need to access detailed information about each of my project customers so that I can contact them regarding project updates or questions. This Outlook CRM solution delivers. Having customer account profiles on hand with all of the key contact information is a great help.
Purchase Tracker- This Outlook based purchase order tracking software is great. With it, I have a simple way of managing the purchase requests that come across my desk. With Purchase Tracker, I can quickly review any requisitions I get and approve or disapprove them with a click. There's a world of difference between this and the old paper routing systems we used to have. All I need to do is simply monitor my e-mail and approve or disapprove purchase requests as I receive them.
Time Tracker - Once I've assigned tasks to individuals, I need to know whether my employees are managing their time well for each of these billable tasks. With this Outlook timesheet system, I can review my employees' hours each week and check our progress against the original projected dates and budgets. It's my responsibility to sign off on employee/contractor timesheets, and verify that time has been charged to appropriate projects, tasks or activities.
Outlook Project Tracking with TrackerSuite.Net
"I can also leverage Microsoft Outlook for tracking projects with TrackerSuite.Net, which is a 100% Web based solution that integrates with email systems. I surface it in Outlook to review configurable dashboards and Gantt Charts, as well as take advantage of handy workflow features, like creating project tasks and documents by dragging-and-dropping emails into a TrackerSuite.Net folder."
- Mark Manager