Outlook Collaboration Software
An Outlook collaboration software solution, TrackerOffice enhances the ability of teams to communicate and work together on initiatives within their email.

TrackerOffice is an Outlook based collaboration solution for project management and job costing, with modules that provide functions for project management, Outlook timesheets, expense reporting, invoicing, purchasing, customer relationship management and reporting.
Why pay for one or more stand alone solutions, and all their associated time and resource costs in installation and deployment, when you can leverage the Outlook client already on your users' desktops to fill those needs?
Outlook Integrated Web Applications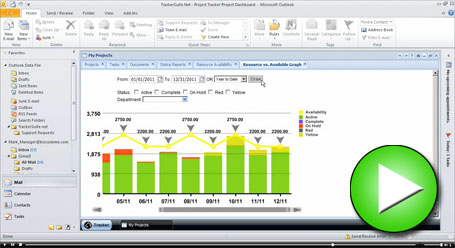 TrackerSuite.Net provides 100% Web based applications for Project & IT Management, Time and Billing, Purchasing and more. These applications integrate with Outlook, allowing users to surface TrackerSuite.Net within their email client. Users can synchronize tasks with Outlook, drag-and-drop emails to a folder to create tasks, documents, and support tickets, and more.
Through Outlook, TrackerOffice replaces the paper based processes and piecemeal IT systems that lead to lost or diluted information, improving interaction between departments and developing a more effective organization. Because it is server based, our collaboration software deploys rapidly throughout your organization, with zero impact on the desktop. And by presenting users with the Outlook user interface they're already familiar with, training time and costs are greatly minimized.
Use Outlook as a Solution for