Microsoft Outlook Collaboration Solutions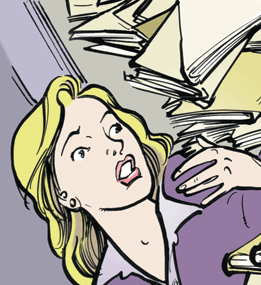 Automation Centre created Bizco, a fictitious company, to show how our Microsoft Outlook collaboration solution integrates into typical organizational processes. The Bizco characters: Victor Vice President, Ashley Admin, Mark Manager, Hannah HR and the others, all demonstrate how they use TrackerOffice, and the impact they've had their work.
The Bizco characters are a part of our own work process as well- we write and test all of our collaboration solutions, TrackerOffice (for Microsoft Outlook), Tracker Suite (for Lotus Notes) and TrackerSuite.Net (for the Web), with the characters in mind. These characters also play a role in our demonstrations, as users take on the role of each of the Bizco characters while they explore the work environment of our Microsoft Outlook collaboration solution provides.
The Bizco characters have made a name in the software industry, and were the subject of an article in Entrepreneur magazine - Building Character - Art Imitates Life for This Entrepreneur.

Victor Vice-President (Executive): "Features, smeachures! I don't care how we do it, I just want to know what we're doing!"

Mark Manager (Project Manager): "I'm juggling too many projects! I need something to track our efforts and help me manage my teams!"

Joe User (Project Staff): "I just want to be able to get the info I need, whenever I need it, to finish my tasks on time."

Ashley Admin (Administration): "I'm tired of the paper chase! I want information at my fingertips- I need something that can streamline our operations!"

Boris Beancounter (Accounting): "I'm tired of double-checking expense and purchase reports, shuffling through customer files, and being the last to know about changed project deadlines!"
We hope you'll enjoy these role-based perspectives of our Microsoft Outlook collaboration solutions. If you have any questions, or would like a demonstration of our applications and how they can help your organization, please contact us today.
Integrating the Web and Microsoft Outlook for Collaboration
TrackerSuite.Net is a suite of 100% Web based collaboration software modules for Projects, IT and HR. These modules integrate with leading email systems, including Microsoft Outlook, allowing users to not only surface its configurable workspace within their email client, but also leverage functions including:
Drag-and-drop creation of tasks, support tickets and documents from emails in Outlook.
Automated approval workflows for project requests, timesheets, expense reports, purchase orders and more.
"Auto Nag" email reminders for late timesheets and status reports, notifications for task and ticket assignments, schedule changes and more.