Business Intelligence in Microsoft Outlook
A Microsoft Outlook based business intelligence solution helps Victor Vice President make effective decisions for Projects, HR and CRM.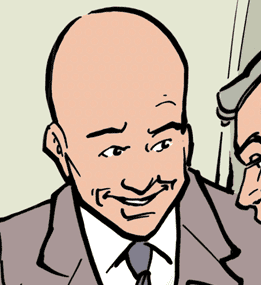 "I start with the premise that the function of leadership is to produce more leaders, not more followers."

- Ralph Nader
I don't really care about every feature that this product offers. Carlos and Mark both go on and on about how the tools and functions in TrackerOffice that are going to help them and their teams perform better, and that's great. But my needs are different. I need a business intelligence solution that reports on our project portfolio, resources, customers and billing.
With TrackerOffice, I get measurements and want high-level schedules. I want to know what's getting done, what it costs, and when it's due. I want to be able to pull up quantified business data: activity reports, budget vs. actual, forecasts, pipeline- every bit of business intelligence that matters to me as the decision-maker, right in Microsoft Outlook. I want my finger square on the pulse of this organization. With TrackerOffice, our Outlook collaboration software solution, that's exactly what I get.
Reports - The Tracker Data Warehouse is the tool I use most. I consider it my "virtual dashboard" for Bizco. It receives data from all of the Tracker modules: projects, time, expense, purchasing, customers, personnel, and sales. It also connects to our legacy and accounting systems. It compiles this raw data into real-time Microsoft Outlook reports which I can manipulate on the fly with pivot tables and drag-and-drop. If I'm building a document, I can easily export the report to Excel or Word if I want to, with the click of a button. With over 40 templates and the ability to configure my own reports, the Tracker Data Warehouse puts me a mouse click away from what I want to see- the bottom line.
Project Tracker - The fact that I can stay on top of project management issues with these business intelligence reports in Microsoft Outlook is great. It gives me high level schedules so that I always know the status of what's going on throughout the organization, and can make sure that projects are on track. I can also compare the task loads of different departments to see which teams are at maximum capacity and manage team work loads as necessary.
Purchase Tracker - Knowledge about my organization is the key to success for me and my company. This tool provides important information about each of my employees, all stored in one central, secure location for easy access.
Customer Tracker - With Customer Tracker, I am able to keep an eye on customer service issues and make sure we're doing what we say we will for our clients. I can also quickly generate and track sales contracts from my own company templates.
Business Intelligence with Microsoft Outlook and TrackerSuite.Net
"Using TrackerSuite.Net, a 100% Web based solution that I can surface in my Outlook client, I can review an array of colorful project dashboards and reports in which I can drill down or across data sets with ease. Even better- I can configure these views in TrackerSuite.Net to suit my needs, and save the reconfigured presentation as a private view for my own ongoing use. TrackerSuite.Net transforms my Outlook client into my own business intelligence portal.
- Victor Vice President