Project Management Using Outlook
Project management using Outlook, with project folders and dashboards.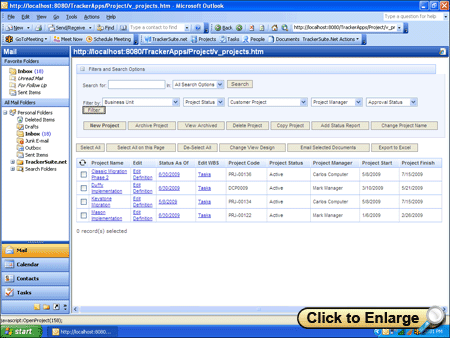 A Project Portfolio in Outlook
TrackerSuite.Net is a 100% Web based solution that can be surfaced in Microsoft Outlook. Users can configure their own project portfolio dashboards which can be surfaced in Outlook. With these dashboards, users can easily review the progress and status of projects, and drill down for more information.
Color-coded warnings for budgets, schedules and resources that are at risk.
Review project completion percentages, budgeted versus actual work, slippage and more.
These views can be emailed as project newsletters.

TrackerSuite.Net does not require Microsoft Exchange. It may hosted in your organization's private Cloud, or delivered as a service from Automation Centre.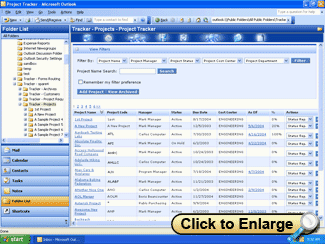 TrackerOffice, an Outlook project management software solution, offers users an organized, easily navigated view of project management folders, which can be searched or filtered by project name, manager, status, cost center and department.
Inside these folders, users can see more information about the project, including tasks, status reports, documents, schedules and more.