Outlook Time Sheets
Outlook time sheets allow project team members to report time without leaving their email.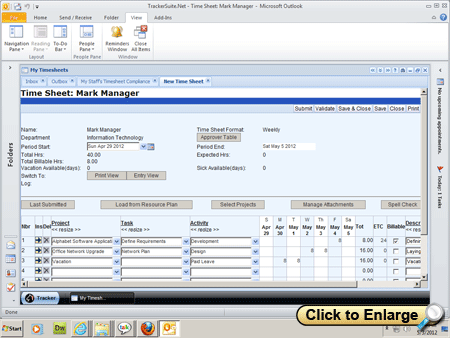 Time Reporting with Outlook
TrackerSuite.Net is a 100% Web based solution that can be surfaced in Microsoft Outlook. It includes a time reporting module that employees can utilize to create and submit time sheets, from any location via the Web or their Outlook email client.
It simplifies time reporting in several ways:
Its integration with a project management module allows users to quickly charge time to projects and tasks using picklists.
For employees involved in repetitive or long-term project activities, it offers a "Last Submitted" button. Clicking the button creates a new time sheet copied from the last one submitted.
A user can click the "Load from Resource Plan" button to load all their assigned tasks for the time period into their time sheet.

TrackerSuite.Net does not require Microsoft Exchange. It may hosted in your organization's private Cloud, or delivered as a service from Automation Centre.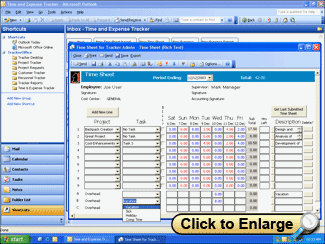 With Outlook time sheets, TrackerOffice simplifies the user's time reporting process. These forms connect with Project Tracker, an Outlook project management software solution, allowing users to track time spent on defined projects and tasks by using pick lists. This connectivity streamlines time sheet creation and eases the approval process by reducing the volume of time sheets rejected by managers due to faulty reporting. Automated reminders also ensure that time sheets are submitted in a timely manner.