Outlook Resource Scheduling
Outlook resource scheduling software allows users to review resource allocations and availability in their Outlook email client.

Track resource assignments, review availability and schedule resources effectively, all without leaving your Outlook email client. TrackerSuite.Net is a 100% Web based project management system that integrates with email systems, including Outlook.
Using TrackerSuite.Net and Microsoft Outlook, your organization can:
Surface graphical reports, including Resource vs. Available widgets, as well as views of resource workloads, in their Outlook client.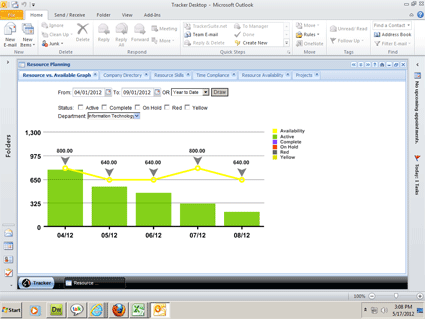 Leverage a business intelligence engine to generate "What If" scenarios can be run to determine impact on resource allocations in various project scheduling scenarios.
Generate reports including Employee Lists, Headcounts and Allocation vs. Actual which can be exported to Excel or PDF.