Project Activity Reports in Outlook
Project activity reports are just one of the reports TrackerOffice can provide within Microsoft Outlook.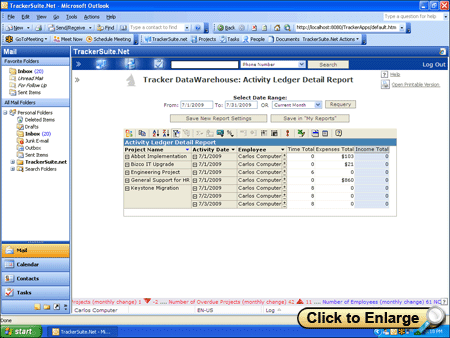 Project Activity Reports in Outlook
TrackerSuite.Net is a 100% Web based solution that can be surfaced in Microsoft Outlook. It provides a variety of project management reports, including Project Activity Reports through its integrated modules for Project Management, Time and Expense Reporting.
As well as Activity Reports, TrackerSuite.Net also provides Time Pies, Budget vs. Actual, Headcounts and many more. These reports may configured with drag-and-drop fields, filters and pivot tables, and exported to Microsoft Excel.

TrackerSuite.Net does not require Microsoft Exchange. It may hosted in your organization's private Cloud, or delivered as a service from Automation Centre.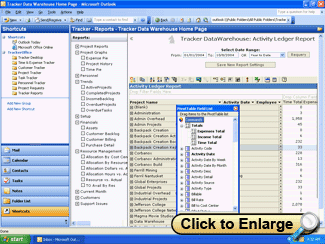 Using TrackerOffice, Managers and Administrators can easily drill down on employee efforts and their costs with Project Activity reports, served in their Microsoft Outlook client.
These reports are generated by the Tracker Data Warehouse, a reporting engine that receives data pushed from TrackerOffice modules: Project Tracker, Time Tracker and Expense Tracker.