Outlook Task Calendars
Outlook task calendars streamline task assignment and and management.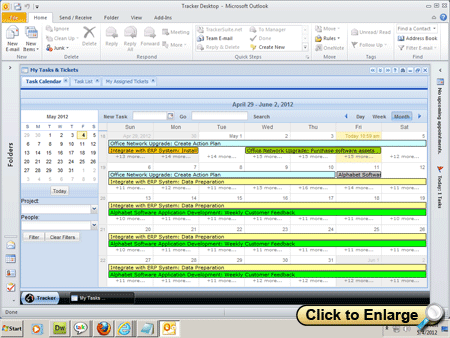 Task Calendars in Outlook
TrackerSuite.Net is a 100% Web based solution that can be surfaced in Microsoft Outlook. It provides searchable, filterable calendar views for projects, tasks and leave requests. Users can filter the calendar by project or resource, and can open a task simply by clicking its calendar entry.
It also offers other integration functions with Outlook, including:
The ability to create tasks, documents and support tickets simply by dragging an email in their Outlook client to a TrackerSuite.Net folder.
It can synchronize its tasks in its project management module with the user's Outlook tasks.
The generation of email notifications of task assignments, reminders for late time sheets and status reports, schedule changes and task updates, and more.

TrackerSuite.Net does not require Microsoft Exchange. It may hosted in your organization's private Cloud, or delivered as a service from Automation Centre.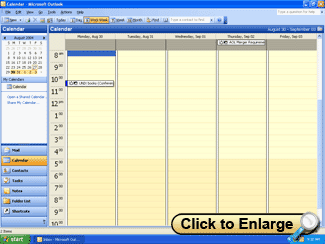 TrackerOffice leverages the Microsoft Outlook calendar function, streamlining processes such as scheduling meetings and task assignment, facilitating project execution in conjunction with the functions provided by Project Tracker.