Outlook Timesheet Management
An Outlook timesheet management solution, TrackerOffice allows organizations to utilize their Microsoft Outlook email platform as a timesheet archiving system.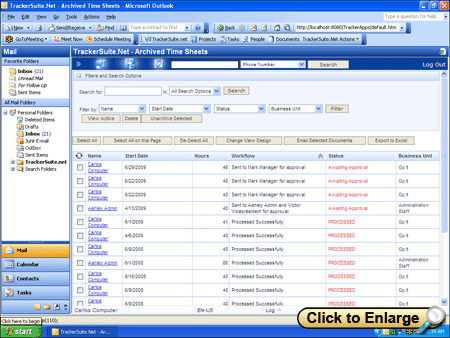 Timesheet Management with Outlook
TrackerSuite.Net is a 100% Web based solution that can be surfaced in Microsoft Outlook. It includes a time reporting module that offers an array of tools for managing employee timesheets, including dashboards such as the one above.

TrackerSuite.Net does not require Microsoft Exchange. It may hosted in your organization's private Cloud, or delivered as a service from Automation Centre.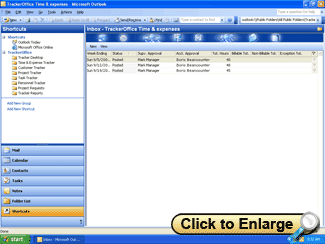 Time Tracker simplifies timesheet management, archiving submitted Outlook timesheets and allowing users to quickly review their past activity for improved accuracy in project status reports. Similarly, managers can use the archive for researching the development of their projects.
TrackerOffice also provides a Time and Expense Desktop for tracking both timesheets and expense reports.