Timesheet Approval Management
Timesheet approval management leveraging Microsoft Outlook streamlines the organization's time reporting process.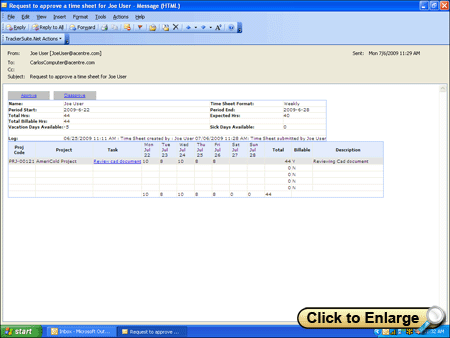 Automating Timesheet Approval Management with Outlook
TrackerSuite.Net is a 100% Web based solution that can be surfaced in Microsoft Outlook. It includes a time reporting module that streamlines timesheet processing with automatic approval routing. Time Tracker.Net can be configured to email submitted time cards to approvers, who can review and approve them without leaving their email. As well as Microsoft Outlook, TrackerSuite.Net also integrates with other email systems including Lotus Notes and Gmail.

TrackerSuite.Net does not require Microsoft Exchange. It may hosted in your organization's private Cloud, or delivered as a service from Automation Centre.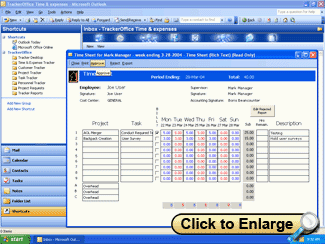 Time Tracker simplifies the entire time reporting process through timecard creation, submission and final approval.
After a user fills out and submits an Outlook time sheet, it's automatically routed to a supervisor. As the screenshot on the left shows, managers can approve, disapprove or even edit submitted timecards.