Outlook Status Reports
Outlook status reports simplify and automate the project status reporting process, using the Microsoft Outlook email system.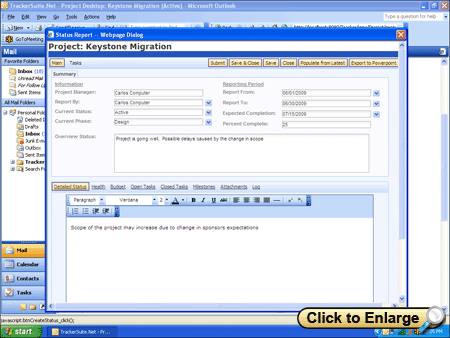 Project Status Reporting with Outlook
TrackerSuite.Net is a 100% Web based solution that can be surfaced in Microsoft Outlook. It includes a project management module that simplifies project status reporting with:
Automated email reminders for late status reports.
Comprehensive report forms that includes areas for metrics, task status, budget information, issues, risks and more.
When a status report is submitted, an automatic notification is sent to all interested parties, with an overview of the status report.
These status reports can also be exported in a variety of formats, including Power Point presentations.

TrackerSuite.Net does not require Microsoft Exchange. It may hosted in your organization's private Cloud, or delivered as a service from Automation Centre.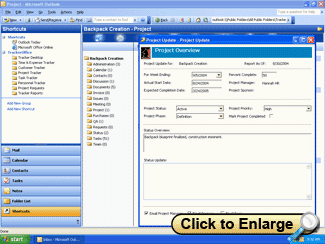 Project Tracker offers status reports, allowing managers to easily stay on top of project developments. Upon completion project managers and sponsors can be automatically notified of the update, which is stored in the project folder.