Employee Timesheet Management
Employee timesheet management through TrackerOffice improves and streamlines employee payroll and accounting processes.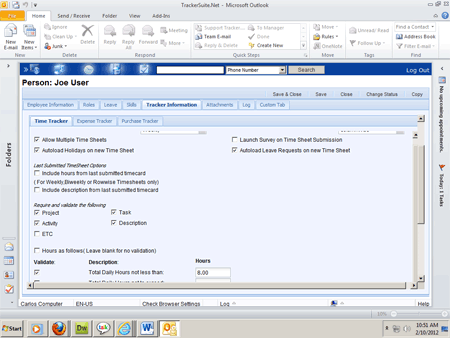 Configuring Employee Timesheets in Outlook
TrackerSuite.Net is a 100% Web based solution that can be surfaced in Microsoft Outlook. Through its HR module validation rules can be set on an individual employee basis, including time sheet format, minimum/maximum hours and reporting options.

TrackerSuite.Net does not require Microsoft Exchange. It may hosted in your organization's private Cloud, or delivered as a service from Automation Centre.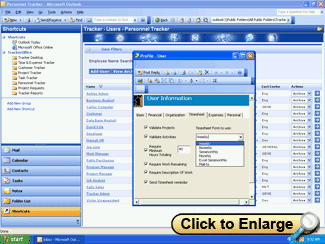 In Personnel Tracker, the Timesheets tab of the employee's personnel file is where the configuration of their timesheet is set, including validation checks, requirements and format (weekly, bimonthly, monthly, etc.). Managers can also set whether the employee will receive an automated reminder to submit their timesheet.