Payroll Automation with Outlook
Payroll automation is facilitated with Outlook and TrackerOffice, which provides a personnel file system that includes financial data.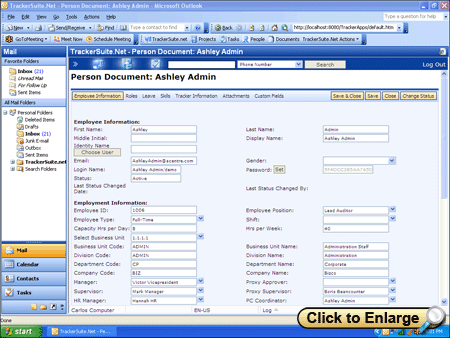 Employee Files in Outlook
TrackerSuite.Net is a 100% Web based HR system that can be surfaced in Microsoft Outlook. It provides comprehensive personnel files containing contact information, employment information, skills and training, even pictures. These files also include salary information, access to which may be restricted by role. These files also include an attachments area.

TrackerSuite.Net does not require Microsoft Exchange. It may hosted in your organization's private Cloud, or delivered as a service from Automation Centre.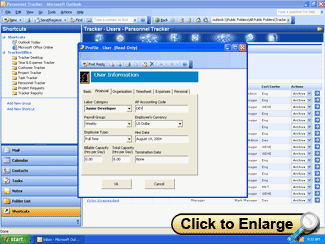 In an employee file in Personnel Tracker, the Financial tab details the employees place within the company's financial processes, including their labor category, payroll group, accounting code, employee type (full, part-time), payroll currency, billable capacity and total capacity.